Portable Alternative Sanitation System (PASS)
Bringing clean drinking water and indoor plumbing to households across Alaska.
For many families across rural Alaska, access to clean drinking water and basic sanitation is a daily challenge. Due to many factors in our beautiful but extreme Arctic environment, traditional piped water and sewer systems may never be a viable solution for these areas. Nearly 3000 families still haul their water and human waste, and deal with the associated health affects.
PASS Can Help
The PASS system incorporates simple and proven technologies to deliver more plentiful drinking water, replace wash basins and honey buckets, and reduce exposure to human waste. The units are small enough to install in individual homes and can be transported should the village face relocation, making it a cost-effective solution.
Components of the PASS units include:
Rain harvesting systems collect water and add to the supply families carry from the river, especially important in areas with little fresh water.
Drinking water is filtered and disinfected and pumped into a clean water tank.
A gravity-fed sink and faucet provide clean running water for handwashing, replacing common wash basins.
Waste is managed with a toilet which separates solids from liquids. This toilet system can completely replace the honey bucket and greatly reduce the exposure to human waste.
The toilet diverts liquids to a buried seepage pit which has been proven to work with local soil structures and freeze/thaw cycles.
A toilet vent dries the solids and reduces odors, thereby improving the home's air quality. The small bags of dried solids are safe for disposal at the landfill, a vast improvement over using a honey bucket.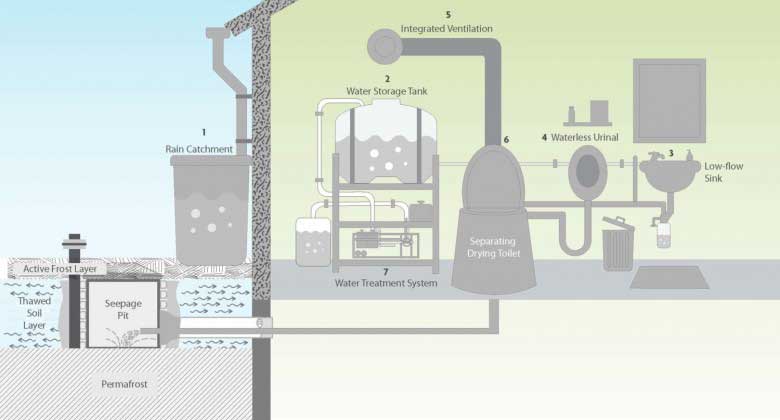 In response to the need for better sanitation in rural Alaska, highlighted by COVID-19, our team developed a simpler version of the PASS technology, specifically for homes using wash basins and honey buckets. The gravity-fed handwashing station provides clean, flowing water for washing hands more effectively, allows for more water storage in the home, and encourages more frequent handwashing. The ventilated honey bucket pulls germs and odors out of the home at the source, bettering the indoor air quality throughout the entire home. The molded plastic seat is comfortable for sitting, and more stable to prevent tipping or spills. With simple, proven technology, Mini PASS meets rural Alaskan homeowners where they are, to help lead toward more healthy lives.
Funded in partnership with the Alaska Native Tribal Health Consortium, the CDC Foundation, and Tanana Chiefs Conference, nearly 400 Mini PASS units have been installed in homes across Alaska's most rural communities.